Volume Discounts
Save 5% when ordering 24 or more pieces of the same product
Save 10% when ordering 50 or more pieces of the same product
Save 20% when ordering 100 or more pieces of the same product
*Discounted pricing reflected in cart
*All wood components are unfinished. Learn more about wood types or request a quote.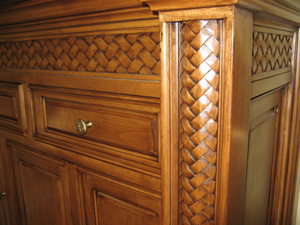 "The basket weave style is one of the newer styles on the scene. This molding is different because it is not just run through a molder or shaper. Can you imagine the man hours you would need to try to hand carve an 8-foot stick of this molding for a project? The Osborne Wood Products craftsmen have saved you the labor. All you have to do is point and click to get it, and then cut and attach it to the project piece. Quite a contrast from the old days of going to the lumber yard, finding the properly-grained piece and then laying out the design, carving it, sanding it and readying it for the piece of furniture." ~ Contributed by Charles Head, Beautiful Interiors
This stunning basket weave moulding adds unique detail and dimension to your space. Add it to your furniture pieces, cabinetry, walls, doors and more. It pairs perfectly with other components within ourbasket weave collection such as corbels and table legs.