Volume Discounts
Save 5% when ordering 24 or more pieces of the same product
Save 10% when ordering 50 or more pieces of the same product
Save 20% when ordering 100 or more pieces of the same product
*Discounted pricing reflected in cart
*All wood components are unfinished. Learn more about wood types or request a quote.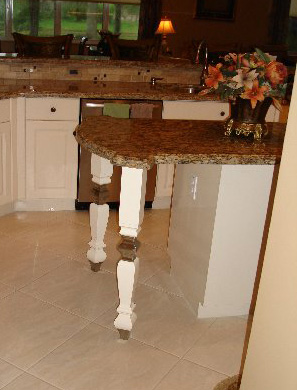 The Electra Fusion Leg is a unique profile boasting defined shapes and a sophisticated combination of wood and metal accents. The leg starts off with a large wooden top block followed by a carved bevel. Below that is a curvy metal shape that separates the lower shaft from the upper block. The lower shaft is also made of wood and then the entire design is finished off with a sophisticated metal foot. All of these details are gracefully composed in the 34 1/2" tall design. It is 3 1/2" wide which will provide ample support for your kitchen island.
There are limitless possibilities for this design with several wood types to choose from as well as a selection of metal finishes. Combine your preferred materials to create a design that will perfectly accent your space. The wooden sections will be sanded to 150 grit and ready to finish with paint or wood stain (depending on the wood type chosen).
We also offer this leg in a slightly taller variation. The Electra Fusion Leg (Part #2711) is 35 1/2" tall and has the same width, perfect for higher kitchen island projects.