House of Wood Coffee Table Leg
Volume Discounts
Save 5% when ordering 24 or more pieces of the same product
Save 10% when ordering 50 or more pieces of the same product
Save 20% when ordering 100 or more pieces of the same product
*Discounted pricing reflected in cart
*All wood components are unfinished. Learn more about wood types or request a quote.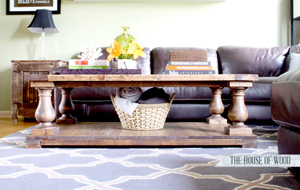 The House of Wood Coffee Table Leg has a 10" height which differs from the common height of 18". However, this sophisticated leg has a 4 7/8" width that can easily support a stunning and unique coffee table. It fits so flawlessly, as can be seen the build by House of Wood Blog. With such timeless appeal, this coffee table leg may help to create a furnishing that will last in your family for generations.
Giving the appearance of a pillar, this turned leg elegantly combines elements of grandeur with a contemporary feel. It features a timeless design handcrafted from 100% real wood and is sure to add value to your table design. Not only does it add structural functionality to the piece, but also grace and elegance that will exist for years to come. Plus, it is available in multiple wood types allowing for unlimited customization possibilities.

2023-10-26

Material: Red Oak

Great quality products!

2022-11-26

Material: Cherry

The quality of your products are about as good as it gets. I doubt you'll find better. It's been an absolute pleasure working with your company.

2022-03-04

Material: Knotty Pine

I'm building a coffee table for my wife. The product quality is excellent.

2021-07-10

Material: Knotty Pine

I recommend this product to other furniture makers. The quality couldn't be better!

2021-05-13

Material: Soft Maple (paintgrade)

Product was great

2021-04-01

Material: Hard Maple

These legs were used on a stained wine table. The legs were clean and free of any cracks or damage. Good quality.

2021-03-11

Material: Soft Maple (paintgrade)

Nice

2021-02-21

Material: Knotty Pine

Build a coffee table with pine. Looks great with stain.

2021-02-18

Material: Knotty Pine

Well:made and ready for use without needing additional sanding or modification. Great stuff!

2021-02-18

Material: Knotty Pine

Making a table

2021-01-21

Material: Knotty Pine

quality craftmanship

2021-01-13

Material: Knotty Pine

Exactly what I ordered. I searched elsewhere and this was only place I could find legs this big around.

2021-01-04

Material: Knotty Pine

Beautiful table legs, excellent carpentry. Really changed my project (for the better!)

2020-12-20

Material: Knotty Pine

Great product and fast shipping

2020-12-20

Material: Knotty Pine

Quality

2020-12-05

Material: Knotty Pine

I used it to make coffee table and it turned out amazing

And My God, what beautiful pieces of balustrade coffee legs. nicely packaged and shipped next day.

2020-12-05

Material: Knotty Pine

We bought 4 coffee table legs to diy a pottery barn like design. The legs were just as described and great quality. Such a great option for anyone looking to make their own furniture at home!

2020-11-21

Material: Hard Maple

This will be used in a custom coffee table for our daughter. I would recommend any of your products to anyone. Great quality.

2020-11-10

Material: Hard Maple

The workmanship looks great!

2020-10-31

Material: Soft Maple (paintgrade)

High quality and ready for my project.

2020-10-08

Material: Knotty Pine

For a coffee table for a family member I would recommend Osborne to others. Great product.

2020-09-17

Material: Knotty Pine

Going to make a coffee table with the table legs. Seems to be high quality with a beautiful sanded finish ready for stain. I would recommend to friend without hesitation.

2020-08-13

Material: Knotty Pine

came in excellent condition

2020-07-15

Material: Knotty Pine

I used these for a balustrade style coffee table. Referred by ***

2020-07-10

Material: Knotty Pine

Some of the legs would not stain.

2020-06-21

Material: Knotty Pine

I used them on a coffee table.

2020-06-18

Material: Knotty Pine

Great quality and fast service!

2020-05-29

Material: Knotty Pine

We are using our posts for a coffee table project. They are the perfect dimensions and would be a great addition to any project.

2020-05-14

Material: Knotty Pine

We ordered table legs to build a coffee table. I was hesitant to order them because of the cost of shipping, but it was well worth it. The table is perfect and we saved a ton of money building it ourselves.

2020-05-14

Material: Knotty Pine

My husband is building me a coffee table so I ordered the legs from here because I saw them on Pinterest! I can't wait to see how it turns out!!

2020-05-01

Material: Knotty Pine

Using for a coffee table

2020-04-24

Material: Black Walnut

Nice product

2020-04-05

Material: Knotty Pine

Easy company to deal with, even followed up with a quality check phone call after I receive my table legs. Quality is top notch...will do business again most definitely.

2020-04-02

Material: Knotty Pine

We're making a coffee table.

2020-03-27

Material: Knotty Pine

These pieces are gorgeous!

2020-02-27

Material: Knotty Pine

Great legs for a coffee table

2020-02-21

Material: Knotty Pine

Excellent quality table legs for my coffee table. I would recommend this product.

2020-02-19

Material: Knotty Pine

Using for coffee table

2020-02-16

Material: Knotty Pine

Gorgeous legs! Very happy with the purchase!

2020-02-06

Material: Knotty Pine

Well made

2020-01-25

Material: Knotty Pine

Great quality! We use these when we build coffee tables and they are so pretty! Would definitely recommend to anyone who needs a great coffee table leg component!

2020-01-23

Material: Knotty Pine

For a coffee table. Very nice

2020-01-17

Material: Knotty Pine

This table leg made all the difference in our project. It looks so much more professional than anything we could have made ourselves.

2020-01-02

Material: Knotty Pine

These legs are gorgeous! Can't wait to show them off!

2019-12-06

Material: Knotty Pine

Easy to navigate website. Quick shipping and processing. Items arrived timely and well protected. Initial inspection reveals quality lathe work and appears ready to stain or paint with very little if any preparation. Customer service followed up with a personal phone call, which I apologize for not having returned yet. Haven't used the product yet in my project, but I see no issues to hold me up from these table legs. I would recommend this company for future customers.

2019-11-25

Material: Knotty Pine

Exactly as represented