Coffee Table Kit - Country Style
Volume Discounts
Save 5% when ordering 24 or more pieces of the same product
Save 10% when ordering 50 or more pieces of the same product
Save 20% when ordering 100 or more pieces of the same product
*Discounted pricing reflected in cart
*All wood components are unfinished. Learn more about wood types or request a quote.
The Country Coffee Table Kit will include:

Hand Crafted Wooden Table Top
High Quality Table Skirt Set
Four Country Style Coffee Table Legs
All Assembly Hardware
Wooden Corner Blocks

Benefits of Ordering an Osborne Full Table Kit:

Made of 100% Solid Wood
Multiple Wood Types Offered
Durable Joint Construction (Mortise and Tenon)
Assembling is Easy
All Necessary Pieces Included
All of our wooden components are sanded to 150 grit and ready-to-finish. Full table kits will arrive unassembled.
Please note: there is a lead time of 3 business days for this product.
Brief History: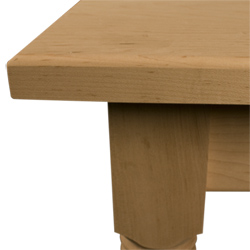 Country style furniture reemerged in the 1980s, although it has been a popular choice since the 17th century. There are three types of country style furniture: primitive, country and French country. Each has distinctive characteristics but all can be used within farmhouse style homes.
Country Style Coffee Tables: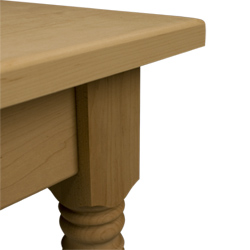 This standard coffee table is perfect for your living area, lounge or office. Do you have a larger space to fill? Grab one of our Country Coffee Table Kits (Part #50018) with an expanded length. You can pair these kits together and utilize them throughout your home for a stunning cohesive theme.
Quick Facts
Table Top Size: 18" x 36" x 1"
Table Top Overhang from Legs: 2"
Overall Table Height: 19"
Leg Style: Colonial Coffee Table Leg (Part #1311)
Apron Height: 4"
Tools Needed for Assembly: Power Drill, Screw Driver (Pan head screws included), Wrench, Wood Glue, Wood Clamps, Paint or Stain to Finish