Volume Discounts
Save 5% when ordering 24 or more pieces of the same product
Save 10% when ordering 50 or more pieces of the same product
Save 20% when ordering 100 or more pieces of the same product
*Discounted pricing reflected in cart
*All wood components are unfinished. Learn more about wood types or request a quote.
Wood carvings with fleur-de-lys motifs are great addition to kitchen cabinets and wine cellars. By combining different types of wood carvings you can come up with designs that are uniquely yours. Since first appearing around the 10th Century, the Fleur de Lis has become one of the world's most recognizable symbols. It has appeared on everything from European coats of arms to flags, and has even been adopted as the symbol of several sports teams. Today it is offered by Osborne Wood Products as an applique and can be used to decorate any piece of furniture; adding grace, class, and an international appeal. The back of the medallion is perfectly flat with no mounting hardware, as it is best installed using adhesive. This item is available in 5 different wood types.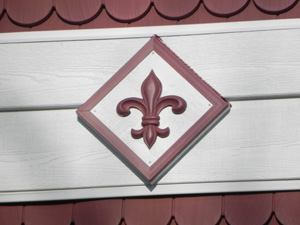 2021-05-29

Material: Red Oak

Though expensive, the fleur de lis appliqués were beautiful. They will be used on custom cabinets for my library.