Large Grape Cluster Right
Volume Discounts
Save 5% when ordering 24 or more pieces of the same product
Save 10% when ordering 50 or more pieces of the same product
Save 20% when ordering 100 or more pieces of the same product
*Discounted pricing reflected in cart
*All wood components are unfinished. Learn more about wood types or request a quote.
I remember the time that I was going to carve a grape cluster on the panel at the end of a bar that I had built. My father, having been apprenticed by a German woodcarver back in the early 1900s, surely must have passed that natural ability on to me, right? Not even slightly! I first started out with chisels and gouges, but I did not have the patience for that. I switched to the die grinder. This was a mistake-100 divots ground out of a piece of magnificently-grained wood does not a cluster of grapes make. I wound up taking the piece apart and getting rid of that beautiful panel of wood. Thank goodness that Osborne Wood Products has this beautiful carving in their line, to keep me from making the same mistake twice. ~ Contributed by Charles Head, Beautiful Interiors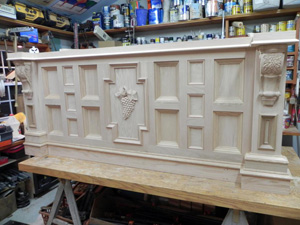 Reviews
You must be logged in and have previously purchased this product in order to leave a review.