Volume Discounts
Save 5% when ordering 24 or more pieces of the same product
Save 10% when ordering 50 or more pieces of the same product
Save 20% when ordering 100 or more pieces of the same product
*Discounted pricing reflected in cart
*All wood components are unfinished. Learn more about wood types or request a quote.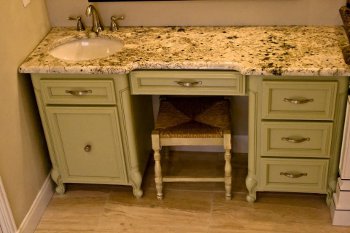 The Non-Carved Corner leg is a dainty design that can accommodate a wide range of interior styles. It has a rounded profile and is chamfered to seamlessly attach to the vanities or cabinetry. The bottom features a curved foot and the entire leg is traced gracefully with carving that adds delicate detail to any space.
This corner post is available in several unfinished wood types, including paint and stain grade options. It is 35" tall and 2" wide, the same size as our Carved Corner Leg (Part #5015). Both options provide a sense of traditional elegance, but one features more ornate carvings with leaf-like accents along the center and adorning the foot.
2023-07-20

Material: Cherry

This is the area where wood filler in the front surface of the leg surprised me. Certainly these are a good value product but would have been less work if made from wood without flaws in it that needed putty to correct (and labor on my part to correct)

2022-02-03

Material: Rubberwood (paintgrade)

Perfect like every other time I've ordered from Osborne.

2021-12-23

Material: Red Oak

I built 2 custom bathroom cabinets several years ago for a client and used these legs, the same customer is building a new house and asked me to build the same style cabinets for her new bathroom. Thank you Osborne for providing quality products throughout the years, I know I can count on you guys to come back and get the same high quality items time after time..