4 Sided Tapered Dining Table Leg
Volume Discounts
Save 5% when ordering 24 or more pieces of the same product
Save 10% when ordering 50 or more pieces of the same product
Save 20% when ordering 100 or more pieces of the same product
*Discounted pricing reflected in cart
*All wood components are unfinished. Learn more about wood types or request a quote.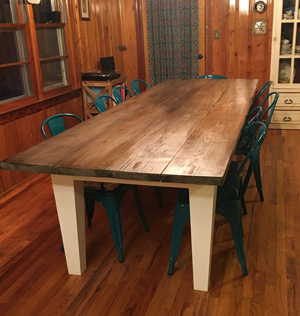 The four-sided tapered design features a modest silhouette that speaks to both traditional and modern styles. In fact, the 4 Sided Tapered Dining Table Leg is a simple, yet stylish table leg that suits all styles and designs. For those wanting to create a rustic or casual dining space, this wooden leg is ideal. The modern simplicity also makes this table leg ideal for a contemporary space. At 29" tall and 5" wide, it is well suited for dining table or desk builds.
You won't need to worry about structure with the four-sided taper. This version of the leg uses the larger 5" square giving it impressive strength. If you are looking for something a little more dainty, we offer this design in various widths including the narrow Tapered (4-sided) Dining Table Leg (Part #1080) which has a 2 3/4" width.
2021-11-09

Material: Soft Maple (paintgrade)

good

2021-05-13

Material: Red Oak

I had to use it for a 5th leg for a dining room table in the middle, every one, good.

2021-02-19

Material: Red Oak

refer to my other survey response

2020-11-22

Material: Soft Maple (paintgrade)

Used for a dining room table.
I would recommend this product to other woodworkers
The quality of the product is fantastic

2020-09-11

Material: Red Oak

milled nice. went together easy. did not realize it would not be one piece of wood.

2019-12-06

Material: Cherry

Pricey; but,worth it!