Two-Sided Tapered Dining Table Leg
Volume Discounts
Save 5% when ordering 24 or more pieces of the same product
Save 10% when ordering 50 or more pieces of the same product
Save 20% when ordering 100 or more pieces of the same product
*Discounted pricing reflected in cart
*All wood components are unfinished. Learn more about wood types or request a quote.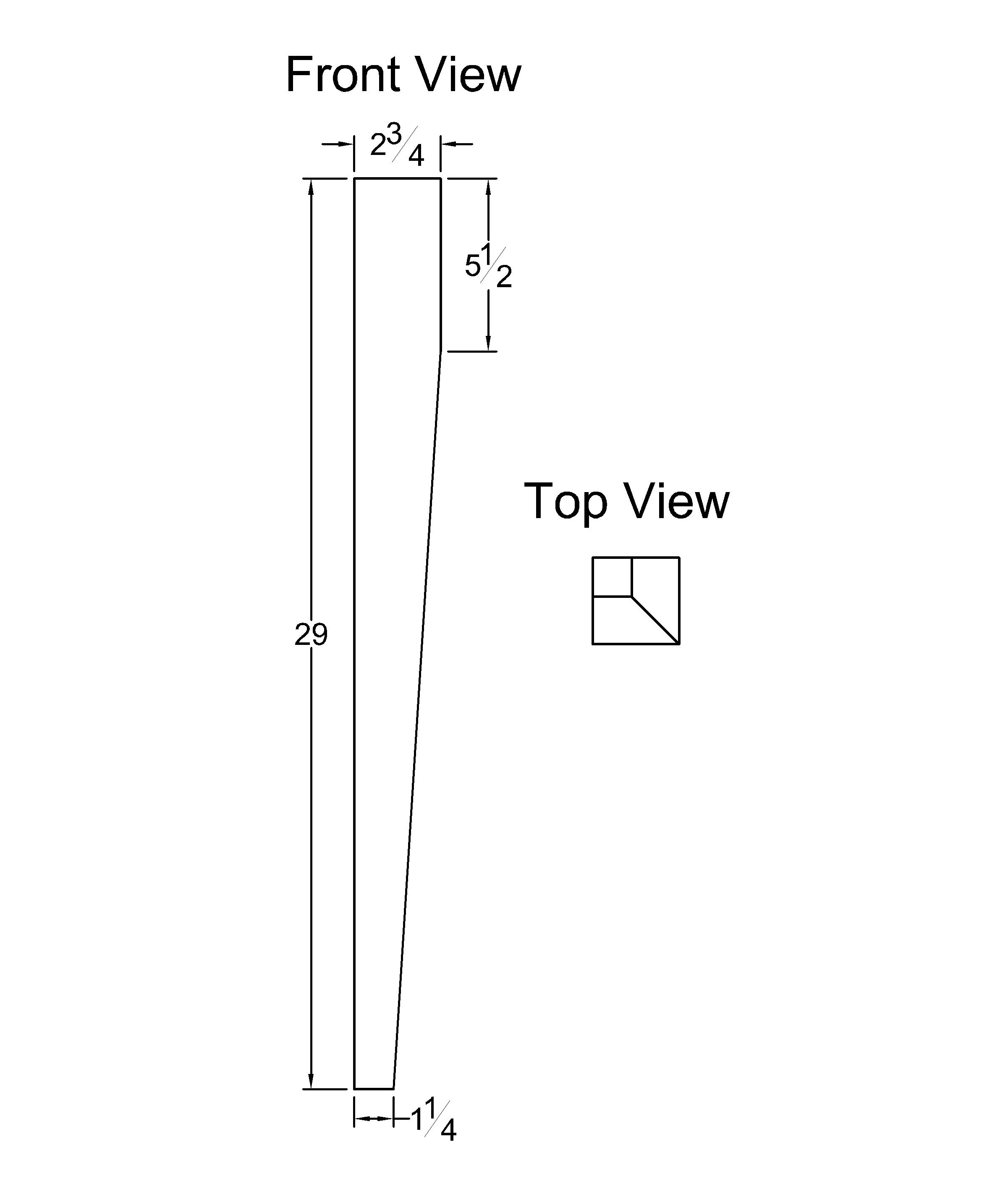 A pure and simple example of Shaker Style furniture components, the Two Sided Tapered Dining Table Leg is a perfect solution for a variety of projects. The Shaker Style is rooted in a foundation of raw honesty and simplicity. This style features straight lines, and a design that can transcend traditional to modern styles.
Tapered legs add character and dimension to the dining table design without the bells and whistles of turnings and carvings. Our two-sided tapered dining table leg maintains a vertical profile on two sides with tapered slopes on the two remaining sides. The clean lines and pure structure give this leg a true Shaker feel. This leg is a good choice when simplicity is the keynote of your project. It is also an excellent selection for making a contemporary statement.

The two-sided taper is also available in a 3 1/2" width (Two Sided Tapered Dining Table Leg, Part #1182). For a full, four-sided taper with 2 3/4" width, check out the Tapered (4-Sided) Dining Table Leg (Part #1080).

2021-03-04

Material: Mahogany

I'm using them for a bathroom vanity. I need to cut them down in width, but that's my own modification. Don't know if you do custom.

2021-02-19

Material: Black Walnut

great

2020-04-24

Material: Alder

Buying the table legs solved my problem that I could not buy the wood needed during shelter-in. The price also made it easy, as the materials-plus-labor figure was less than I could've done right now.

2020-03-15

Material: Soft Maple (paintgrade)

Great. The photos on the website weren't great, the legs looked even better when I opened the box.