5" Tall Tapered (2-sided) Foot
Volume Discounts
Save 5% when ordering 24 or more pieces of the same product
Save 10% when ordering 50 or more pieces of the same product
Save 20% when ordering 100 or more pieces of the same product
*Discounted pricing reflected in cart
*All wood components are unfinished. Learn more about wood types or request a quote.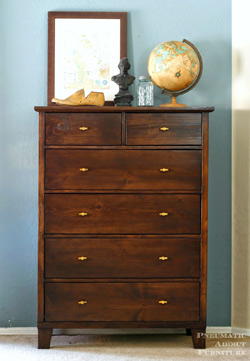 When your cabinet or furniture project calls for a shaker to contemporary style foot that is just a little taller, the 2 Sided Tapered Bun Foot is the perfect option for the job! The 2 sided tapered bun foot is tapered on 2 adjacenet sides. This subtle, yet stylish profile adds a delightful detail to your sofa and seating projects, as well as furniture designs. Add feet to your ottoman or a cabinet or book shelf to create a stunning piece of functional furniture. The 2 sided tapered bun foot is just what you need to add that extra style to your next project!
Recently featured on the DIY Blog: Pneumatic Addict, the 2-sided Tapered Bun Foot shows off its true colors of versatility. Not only can the tapered foot be added to a sofa or seating project, but can transform a dresser! The tapered feet are a perfect match for turning a simple dresser or bookshelf design into a stunning piece of furniture.
Whether adding feet to a sofa, ottoman, dresser, or bookself, or if your plans are to build from scratch, the tapered bun feet are a perfect option for your next design. Adding a classic yet contemporary look and feel to your design, the tapered foot is a must have for your design projects!
Reviews
You must be logged in and have previously purchased this product in order to leave a review.