Colonial Coffee Table Leg
Volume Discounts
Save 5% when ordering 24 or more pieces of the same product
Save 10% when ordering 50 or more pieces of the same product
Save 20% when ordering 100 or more pieces of the same product
*Discounted pricing reflected in cart
*All wood components are unfinished. Learn more about wood types or request a quote.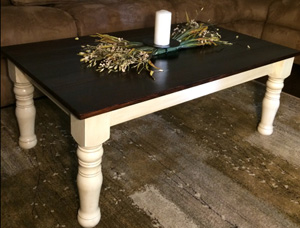 The Colonial coffee table leg has proven to be a reliable standby of cabinetmakers across the country. Made in the tradition of the colonial period of furniture design, from about 1700-1790, it makes use of the knobby structure characterizing the designs of that era. While the aristocrats imported furniture from England, it was the less affluent that depended on local craftsman to produce what would become known as Colonial furniture designs. Also available in dining table and end table height.
Are you looking for a similar item in a different size? Please click the "Related Items" tab just below the photo, and you can see photos of similar products in different heights and widths. This is a great tool to find mataching styles of dining, coffee, and end table legs.
Osborne can make a table base kit for you using this leg, and can ship it out by the following business day of your order. Just click "Order a Table Apron with this Leg" (just below the Add to Cart button), and you will see how we produce our high quality table base kits--everything but the table top! Each piece is made to your exact specifications, and includes all the hardware you need to put together a beautiful table . You select the length, width, overhang, profile edge and wood type, and we do all the milling to your specifications, and in just one day!
We offer a wide range of services for most products which are not available online, but can be added to your order by calling our friendly Customer Service representatives at 800 849 8876. Please note that all orders with any of the following services added will be considered 'Custom' and are not eligible for return. For a complete description of each of these services, click this link: https://blog.osbornewood.com/services-offered-at-osborne-wood-products/ Sanding to 220 Grit Hand Select Solid Stock Only
No Sanding
Exterior Glue
Quarters
Perfect Quarters
¾ Notch Specific Height
¾ Notch Specific Angle
Trim Leg
Install Bolt/Screw
Chamfer
Chamfer and Drill Hole
Install Bolt/Screw in Chamfer
Install Bolt/Screw in Chamfer
Square Hole Through Product
Round Hole Through Product
Receptacle Notch
Drill Hole
Shelf Notch
Mortise
Custom Mortise
Bullnose Edges
Custom Milling– Do you have a milling need not mentioned in this section? Contact our
friendly customer service representatives for a quote to meet your milling needs. 1-800-849-8876
Reviews
You must be logged in and have previously purchased this product in order to leave a review.