Volume Discounts
Save 5% when ordering 24 or more pieces of the same product
Save 10% when ordering 50 or more pieces of the same product
Save 20% when ordering 100 or more pieces of the same product
*Discounted pricing reflected in cart
*All wood components are unfinished. Learn more about wood types or request a quote.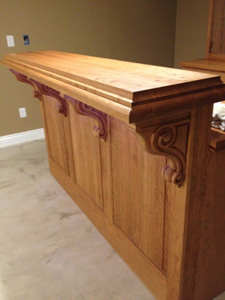 Often referred to as the point of origin for the Renaissance; Florence, Italy came alive with art and architecture in the 14th century. Il Duomo and Giotto's Bell Tower matchlessly stand in the city's center, surrounded by architectural works of genius, such as Basilica di Santa Maria Novella and Basilica di San Lorenzo. Differing greatly from the Baroque era which followed after, the Renaissance focused on symmetry, incorporating a great deal of geometric shapes and principles throughout design. Many times, architectural inspiration came from the ancient Greeks and Romans, who had produced large amounts of ornate pillars and columns. For that reason you will see much of the same in Renaissance architecture. The Florence Bar Corbel seeks to recapture the essence of the Renaissance design by focusing on clean symmetry and proportion. Though ideal for supporting a bar top, this corbel makes itself at home in many applications, and will bring a hint of the Renaissance to your cabinetry.
---
Corbels create instant beauty and sophistication in any space. In practical uses, they provide support for countertops, shelves, and more while elegantly transforming the look of your home. Our wood corbels showcase the grain and color of wood, resembling beautiful pieces of art. Furthermore, the selection between intricately carved or simply designed corbels can dramatically alter the atmosphere of a room. Osborne Wood Products produces our world-class corbels in many different styles, materials, and sizes to meet your design needs.
When placing corbels beneath a countertop, focus on the depth of the corbel. Corbels supporting a countertop should measure at least ½ of the overhang's depth. However, these corbels gain visual appeal with larger dimensions. Corbels that measure ⅔ or ¾ of the overhang's depth provide both better looks and extra support. For example, a countertop with a 12 inch overhang requires supporting corbels that are at least 6 inches deep, but feel free to use 8 inch or 9 inch corbels to enhance the countertop's appearance.
Corbels used to brace shelves must measure at least ⅔ of the shelf's depth in order to properly support the shelf. However, it is recommended to support a shelf with corbels measuring ¾ of the shelf's depth, as this creates better support and visual appeal. For example, a shelf that is 12 inches deep requires supporting corbels that are at least 8 inches deep, but 9 inch corbels provide better looks and support. Check out our blog for more information on how to install corbels.
View our full corbel collection here.
Reviews
You must be logged in and have previously purchased this product in order to leave a review.