Islander Dining Table Leg
Volume Discounts
Save 5% when ordering 24 or more pieces of the same product
Save 10% when ordering 50 or more pieces of the same product
Save 20% when ordering 100 or more pieces of the same product
*Discounted pricing reflected in cart
*All wood components are unfinished. Learn more about wood types or request a quote.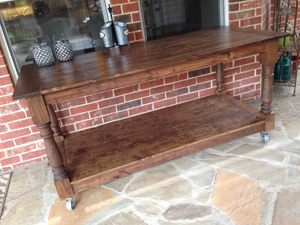 The bread and butter of the Osborne turned component line is the Islander style leg. The Islander Island leg is one of the most popular island post designs offered at Osborne. With a style so sought after, it would only make sense to offer this classic design in a dining table height as well.
The Islander Dining Table Leg features a matching turned design identical to the Islander Island Posts. This dining table leg is unique, as it features both a top and bottom block. The simple turned design is easily compatible with any number of styles and designs, from traditional and classic to contemporary and more.
The Islander Dining Table Leg can easily be added to any number of projects. Use the full leg to support your dining room table, or have the legs milled to fit into your shorter cabinetry. The bottom block can be ideal for adding other hardware to the design (like the photo example of the live edge serving table shown at right).
Easily intigrate the Islander style into your entire space or home! The Islander design is available not only in dining table height but in posts at 34 1/2", 35 1/2" and 40 1/2".
Osborne can make a table base kit for you using this leg, and can ship it out by the following business day of your order. Just click "Order a Table Apron with this Leg" (just below the Add to Cart button), and you will see how we produce our high quality table base kits—everything but the table top! Each piece is made to your exact specifications, and includes all the hardware you need to put together a beautiful table base. You select the length, width, overhang, profile edge and wood type, and we do all the milling to your specifications, and in just one day!
Reviews
You must be logged in and have previously purchased this product in order to leave a review.