Tapered Rope Dining Table Leg
Volume Discounts
Save 5% when ordering 24 or more pieces of the same product
Save 10% when ordering 50 or more pieces of the same product
Save 20% when ordering 100 or more pieces of the same product
*Discounted pricing reflected in cart
*All wood components are unfinished. Learn more about wood types or request a quote.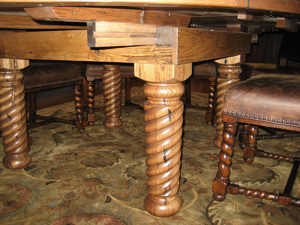 Are you looking for a unique design that will make your next table stand out? Do you have a large table design that requires a little extra support and stability? If you are looking for a table leg that is turned from a 5" wide stock, has character all its own, and is inspired by classic styling but versatile enough to complement modern design, the Tapered Rope Dining Table Leg may be the perfect fit for you!
This high quality wooden leg was made to be sturdy and sustainable. It has a large 7 7/8" top block, followed by fine rope millwork. The rope detailing adds not only character, but dimension to the piece. The leg also gently tapers adding to the elegance of the design. Ending with a delicate bun-like foot, this design is the epitome of strength and style.
Our dining table legs typically have a height of 29" allowing them to create the standard dining table height when paired with a table top. If you enjoy the rope detailing present on this piece, you can easily transfer that style into all area of your home. Rope millwork is also available on kitchen island legs, such as the the Contemporary Rope Island Post (Part #1483), as well as other table legs, furniture feet and moulding options.
2020-05-22

Material: Soft Maple (paintgrade)

Used legs to build farmhouse table