Volume Discounts
Save 5% when ordering 24 or more pieces of the same product
Save 10% when ordering 50 or more pieces of the same product
Save 20% when ordering 100 or more pieces of the same product
*Discounted pricing reflected in cart
*All wood components are unfinished. Learn more about wood types or request a quote.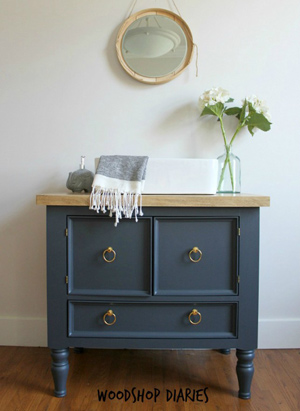 The Vanity Post is a go-to design for your next project. Whether you are working on your bathroom or kitchen, this classic design will complement almost any decor. It is 34 1/2" tall and features a 26 1/2" top block that can be used to easily build cabinets, shelving and other storage solutions. The 8" turned foot adds unmatched detail and gives your piece an elegant uplift. With a 3" width, this design will fit into a wide range of builds. Plus, all of our wooden vanity legs can be customized with your choice of wood species and finished according to your design.
"Don't you just love it when something is created specifically for a particular need? Well, the designers and technical staff here at Osborne Wood put their collective heads together and solved one of the biggest mysteries of bathroom vanity building. "Do I build the vanity and then try to attach a short leg at the bottom . . . do I use some kind of bun foot . . . What in the world do I do now that I have built this beautiful vanity that only I could have created with my brilliant mind and my masterful hands. (Sorry, sometimes I get carried away with my prowess as a woodworker.) Anyway, OWP has created a leg just for this vanity application. Long square shoulders to allow tenoning or doweling of the rails, sides and back along with the perfect turning at the bottom. Go ahead; now you can get to work on that vanity!" ~ Contributed by Charles Head, Beautiful Interiors