Volume Discounts
Save 5% when ordering 24 or more pieces of the same product
Save 10% when ordering 50 or more pieces of the same product
Save 20% when ordering 100 or more pieces of the same product
*Discounted pricing reflected in cart
*All wood components are unfinished. Learn more about wood types or request a quote.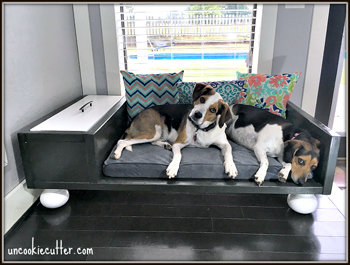 The Club Bun Foot is quite a remarkable piece. It, after all, is quit bulbous at the bottom and then more shapely as it gets closer to the items perched upon it. Unlike most other bun feet that are more reminiscent of well known items such as apples, eggs, fluted and non-fluted rounds, the Club Bun Foot gives a sense of stability to any item it upholds while boasting a dainty round profile.
The sleek design is also durable and can be seen adorning some of the finest furniture and cabinetry. At 4 1/2" tall and 4 7/8" wide, the possibilities are endless with this stylish foot. We even had a customer use these to lift their DIY dog bed design. With storage built in, this is a stylish addition to any pet owner's home. Check out the free tutorial now to get started on your own build!


2021-03-11

Material: Soft Maple (paintgrade)

They were used to provide "feet" for a bedside table.

2021-02-19

Material: Soft Maple (paintgrade)

Osborne's quality of turned wood feet blow those you find in big box stores out of the water. They're much more substantial, come in a wider range of shapes, sizes and wood species and are much more solid. I'm so pleased with the turned bun feet I have! They don't come with a hanger bolt pre-installed, but tutorials on how to put them in are readily available. I recommend these to any furniture refinisher, wood worker or DIY enthusiast!

2020-10-04

Material: Hard Maple

I bought these bun feet to replace shorter feet on a vintage sofa in order to raise the seating height of the sofa. I do a lot of house and furniture rehab and my friends ask me for advice on projects. I will definitely recommend Osborne Wood Products to my friends. I will also recommend Osborne Wood Products to my upholsterer.
The quality of the product is excellent. The bun feet arrived smooth and ready for staining-no sanding needed. The glue joints are tight. Great looking product- and made in the USA.

2020-01-17

Material: Soft Maple (paintgrade)

I'm putting feet on a chest to make it into a coffee table.