Volume Discounts
Save 5% when ordering 24 or more pieces of the same product
Save 10% when ordering 50 or more pieces of the same product
Save 20% when ordering 100 or more pieces of the same product
*Discounted pricing reflected in cart
*All wood components are unfinished. Learn more about wood types or request a quote.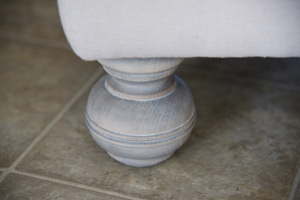 One of the definitions of the word 'bridle' is to move quickly. If you look closely at our Bridle Bun Foot you will notice what appear to be little pads at the bottom of these bun feet. These small pads are the only portion of the foot that comes in contact with the floor. It seems that the entire piece of furniture is floating on little pads of air.
Now those of us who know construction are aware that the piece is actually putting all its mass on these little 'pads'. But the eye of the beholder may see them as an easy way in which to move the item, allowing that less friction may indicate easier mobility. The Bridle Bun Foot is therefore aptly named to give the slight hint that this piece may just move quickly with little provocation.
Reviews
You must be logged in and have previously purchased this product in order to leave a review.