Volume Discounts
Save 5% when ordering 24 or more pieces of the same product
Save 10% when ordering 50 or more pieces of the same product
Save 20% when ordering 100 or more pieces of the same product
*Discounted pricing reflected in cart
*All wood components are unfinished. Learn more about wood types or request a quote.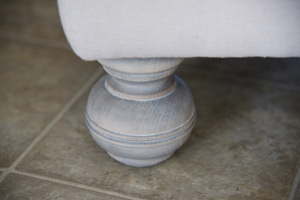 One of the definitions of the word 'bridle' is to move quickly. If you look closely at our Bridle Bun Foot, you will notice what appears to be little pads at the bottom of the feet. These small pads are the only portion of the foot that comes in contact with the floor. It seems that the entire piece of furniture is floating on little pads of air.
The unique composition of this wooden furniture foot makes it a versatile choice that can complement a wide range of home designs. It can be customized to match your furniture and decor by choosing a certain wood species and giving it a matching paint or stain finish. It has a height of 4 1/2" and width of 3 7/8" which will accommodate several furniture projects.
2023-07-13

Material: Soft Maple (paintgrade)

Painted nice

2023-05-24

Material: Soft Maple (paintgrade)

insert screw was too long.

2021-08-19

Material: Black Walnut

Using for feet on bathroom vanity.

2021-03-03

Material: Red Oak

Large assortment of items; Quality finished to 220; prompt shipment.

2021-02-19

Material: Soft Maple (paintgrade)

I used them to replace an armoire legs that were missing

2021-02-18

Material: Red Oak

Quality was excellent.

2020-10-31

Material: Knotty Pine

many good choices

2020-08-13

Material: Black Walnut

The feet that I ordered are going to be used on master bathroom cabinets. I thought that the quality of the product was excellent and will be a great addition to my cabinet project.

2020-06-25

Material: Soft Maple (paintgrade)

Exactly as described. Excellent quality.

2020-02-11

Material: Soft Maple (paintgrade)

was going to use these as feet for the 4" square island leg in red oak. decided we liked just the square leg. thought they looked too small.