English Country Round Bun Leg
Volume Discounts
Save 5% when ordering 24 or more pieces of the same product
Save 10% when ordering 50 or more pieces of the same product
Save 20% when ordering 100 or more pieces of the same product
*Discounted pricing reflected in cart
*All wood components are unfinished. Learn more about wood types or request a quote.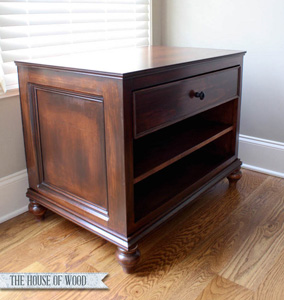 The English Country Round Bun Leg is one of the most popular bun leg designs offered at Osborne Wood Products. It is no surprise that this delightful design is at the top of everyone's wishlist. Standing at 4" tall, this beautifully turned design is a great addition to a wide variety of projects. It has a width of 3 1/2" which perfectly complements designs without overpowering them.
If you're looking to give your cabinetry the look of a fine furniture piece, this bun leg is just what you need. The leg features soft turns and transitions making it the perfect piece for a variety of home styles. True to its name, the English Country Round Bun Leg does lend itself to the more country or cottage style space. However, the piece can easily transcend into traditional and even some contemporary designs!
Recently featured on The House of Wood, the English Country Round Bun Foot found a flawless home on a DIY Printer desk! This bun foot is extremely versatile, as can be seen in this innovative design. Add this country bun foot to your furniture or cabinetry today!
Find out more about some of our popular round bun feet designs in the video below.
2022-06-30

Material: Cherry

I ordered feet for a blanket chest I will be building. The workmanship is very good. I recommend Osborne and look forward to using them again.

2022-06-23

Material: Black Walnut

Only reason I didn't give it five stars is because the wood used to make the foot is laminated. Really - four pieces of wood glued together to get a 3 1/4" diameter foot? They do sell 16/4 walnut!

2021-08-19

Material: White Oak

the bun feet are perfect as expected

2021-05-20

Material: Soft Maple (paintgrade)

Vanity feet.

2021-05-13

Material: Hard Maple

Under our dining room table, we bought these hardwood bun feet to raise the table. High quality wood. I'd recommend

2021-03-06

Material: Knotty Pine

Excellent product! It arrived very quickly and the table buns far exceeded our expectations! We are very happy!

2020-10-31

Material: Rustic Alder

Vanity feet for a customer. They are great, solid, no issues attaching to the cabinets.

2020-10-08

Material: Black Walnut

These will look great on the dining room buffet that I built


2020-08-06

Material: Alder

To many joints in turning, I don't think this will stain well.

2020-05-02

Material: Soft Maple (paintgrade)

Beautiful quality. Used to bring character to and elevate a bookshelf.