Modified Bar Corbel with Acanthus Leaves
Volume Discounts
Save 5% when ordering 24 or more pieces of the same product
Save 10% when ordering 50 or more pieces of the same product
Save 20% when ordering 100 or more pieces of the same product
*Discounted pricing reflected in cart
*All wood components are unfinished. Learn more about wood types or request a quote.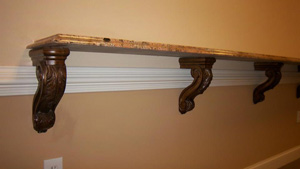 One of the most commonly displayed plants in architecture; the acanthus leaf is rooted in Greek design, usually seen adorning Corinthian pillars. Greek architecture saw such prolific use of the acanthus leaf because it was such a plentiful plant in that region.
The acanthus leaf has taken up a place in architecture which signifies elegance and sophistication. During the Medieval and Renaissance periods, sculptors and wood carvers alike made frequent use of this regal imagery.
While acanthus leaves have been essential to design throughout the ages, corbels are even more integral to architectural support, and have been used for millennia to add support to impressive structures. This strong yet delicate corbel, with its open back, brings a touch of the nouveau to such a classic piece.
This corbel has vertically-mounted keyhole openings on the back to make installation easy.

Reviews
You must be logged in and have previously purchased this product in order to leave a review.