Square Mission Island Post
Volume Discounts
Save 5% when ordering 24 or more pieces of the same product
Save 10% when ordering 50 or more pieces of the same product
Save 20% when ordering 100 or more pieces of the same product
*Discounted pricing reflected in cart
*All wood components are unfinished. Learn more about wood types or request a quote.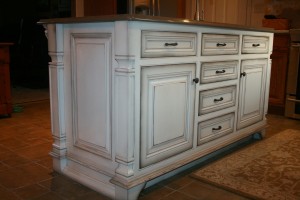 The Square Mission Island Leg boasts a simple square profile with the impressive recessed sections that were popular in mission design. The straight, crisp lines make it ideal for anything from rustic to modern kitchen designs.

This island leg design is versatile and can be used to accentuate formal or semi-formal spaces. It has a height of 34 1/2" and width of 3 ½", making it ideal for many traditional island builds. It is available in a variety of wood species, depending on your preference. Each leg is sanded to 150 grit and unfinished, giving you the flexibility of adding the wood stain or paint most suitable to your project.
If you like the mission design of this square leg but are looking for something larger, check out our Massive Square Mission Island Leg (Part #1448) which has an impressive width of 5". You can also browse our full Mission Collection to find complementary table legs, corbels, furniture feet and more.

2023-07-27

Material: Rubberwood (paintgrade)

One of my legs did come damaged so I hope in the future as my product is used there isn't any further damage.

2023-04-27

Material: White Oak

Using on an Island, Cabinet makers great quality

2023-04-06

Material: Soft Maple (paintgrade)

custom island cabinetry

2023-03-23

Material: Rubberwood (paintgrade)

Other craftsmen

2022-07-14

Material: Rubberwood (paintgrade)

With kitchen cabinet islands.

2022-06-01

Material: Soft Maple (paintgrade)

Love them! We added them because we put in granite counter tops and wanted a little overhang. We wanted additional support.

2022-05-26

Material: Rubberwood (paintgrade)

Just what we need for island appliacations.

2022-04-14

Material: Hard Maple

Product is being stained and used to create a custom island.
Recommend to our residential customers.
Quality is great.

2022-02-17

Material: Rubberwood (paintgrade)

They look great

2022-01-27

Material: Hard Maple

Very good quality.

2021-12-15

Material: Rubberwood (paintgrade)

These island posts are very attractive and well built. They will be used to support a peninsula in my kitchen.
Yes I would recommend your company and products to friends and family.

2021-11-22

Material: Soft Maple (paintgrade)

Beautifully made.

2021-11-08

Material: Soft Maple (paintgrade)

Kitchen Range Legs

2021-08-19

Material: Soft Maple (paintgrade)

Island legs.
Anyone
High quality

2021-07-20

Material: Soft Maple (paintgrade)

I will use these legs on a kitchen Island and will paint to match the factory cabinets we are installing.

2021-07-15

Material: Black Walnut

We are using this piece for a custom island we are constructing for a client. Great quality!

2021-06-18

Material: Hickory

My husband builds cabinets and this lady wants legs on the cabinet at the sink.

2021-06-10

Material: Rubberwood (paintgrade)

Solid product, exceptional quality, well packaged, fast ship, would buy again

2021-05-27

Material: Alder

Cabinet accessories, quality is good and any issues that do occur are resolved quickly.

2021-05-06

Material: Soft Maple (paintgrade)

Excellent quality, always arrive quickly and ready to integrate into our projects.

2021-04-29

Material: Soft Maple (paintgrade)

We buy island legs often from you guys and they're always great!

2021-03-25

Material: Soft Maple (paintgrade)

Island post was well packaged and we look forward to installing it in our kitchen!

2020-10-31

Material: Soft Maple (paintgrade)

Installed along with custom built kitchen cabinetry. We recommend it to all our customers looking for island posts. Excellent quality!

2020-10-31

Material: Hard Maple

Installed along with custom built kitchen cabinetry. We recommend it to all our customers looking for island posts. Excellent quality!

2020-10-24

Material: Red Oak

used product to replace 70's spindles in hallway. would recommend to anyone. quality product

2020-07-24

Material: Red Oak

Great quality and service

2020-06-18

Material: Soft Maple (paintgrade)

Custom Cabinet shop
Yes if would recommend to others for sure

2020-02-17

Material: Hard Maple

Product was exactly what the customer was looking for to complete the look of the kitchen. We are a custom Cabinet plant and your service and quality are always top of the line.

2020-02-05

Material: Soft Maple (paintgrade)

Using these as Island legs. Perfect.

2019-06-15

Material: Rubberwood (paintgrade)

great