Volume Discounts
Save 5% when ordering 24 or more pieces of the same product
Save 10% when ordering 50 or more pieces of the same product
Save 20% when ordering 100 or more pieces of the same product
*Discounted pricing reflected in cart
*All wood components are unfinished. Learn more about wood types or request a quote.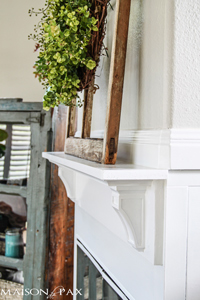 The Carpi Mission Corbel features recessed faces and outlined edges. Measuring 6" tall and 2 ¾" deep, this delicately carved piece adds dimension and character to your home.
This corbel features the simple, straightforward design of Mission-style products. The front of the corbel has both a flat, rectangular face, and a curved side that gently tapers toward the bottom edge. Its clean shape is defined by the outlining along its edges and corners, underscored by areas of recessed carving.
These modest details work well in both contemporary and rustic spaces, as the lack of ornamentation helps the Carpi Mission Corbel complement a wide range of styles.
Although this is the smallest of our Mission corbels, it can easily support a small shelf or mantelpiece. Its modest size makes it a versatile component that can be utilized in a wide variety of creative applications. In fact, many customers have turned our small corbels into decorative pieces or bookends.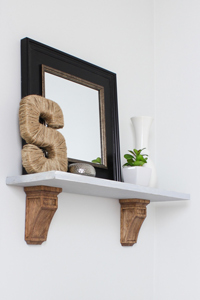 The Carpi Mission Corbel features vertically-mounted keyhole openings on its back for easy mounting. It is available in multiple wood types, including a paint grade wood. This product is sanded to 150 grit and ready to finish.

Check out this corbel and a few others from our mission collection in the video below.
2023-04-26

Material: Alder

These looked great on my project and I will use again for sure.

2023-03-09

Material: Red Oak

Two beautiful Red Oak Corbels that stained up prefectly for my custom coat rack that I built. Thank you for a great product.

2022-12-30

Material: Rubberwood (paintgrade)

Very nice corbels that worked well for my project.

2022-12-30

Material: Paintgrade Birch

We have always been satisfied with our purchases from Osborne Wood Products.

2022-10-20

Material: Hickory

cabinet sales

2022-08-24

Material: Rubberwood (paintgrade)

We used their products Commerical buildings but they work well in residential as well.

2021-12-15

Material: Rubberwood (paintgrade)

Great

2021-08-20

Material: Soft Maple (paintgrade)

Kitchen Hood, Great Quality

2021-06-18

Material: Rubberwood (paintgrade)

I did not end up with this product. They called me & said they were out of this product in this material so they offered it to me in Black Walnut at no charge to me. It ended up that this fit my project even better & I am thrilled with the results!

2021-04-07

Material: Rubberwood (paintgrade)

Great o

2021-03-03

Material: Knotty Pine

Very nice product, easy to install

2020-12-16

Material: Rubberwood (paintgrade)

I utilized the Carpi Mission Corbels on a mobile kitchen island I was making for my daughter. The Corbels were in excellent condition and I applied a pecan stain to them and used polyurethane to finish them. They ended up giving the island a little touch of class. I would consider using the product again should I need this type of detail and would recommend this product as well as Osborne Wood Products, Inc. to my friends.

2020-10-26

Material: Red Oak

Appears to be made in China.

2020-10-03

Material: Rubberwood (paintgrade)

Thank you

2020-09-11

Material: Rubberwood (paintgrade)

I will be using the corbels I purchased to build a mantle for my fireplace.

2020-06-06

Material: Soft Maple (paintgrade)

Building a fireplace surround