Corner Colonial Ogee Foot
Volume Discounts
Save 5% when ordering 24 or more pieces of the same product
Save 10% when ordering 50 or more pieces of the same product
Save 20% when ordering 100 or more pieces of the same product
*Discounted pricing reflected in cart
*All wood components are unfinished. Learn more about wood types or request a quote.
The Ogee, or cyma reversa, is an architectural term dating back to the 14th century during the Gothic period. It appears to have dual origins. While the French were developing the Ogee during their Flamboyant Gothic period, it seems the English were also working on the cyma reversa during what they called their Decorated Gothic period. Although we can't be sure who first combined the convex arch with the concave arch, we do know that it has its roots in Western Europe. Our Ogee Bun Feet are specifically designed and produced to accommodate a wide variety of craftsmanship styles and uses and, of course, are true to the original Ogee designs. "The little Ogee Foot has long been a staple of the woodworking industry. For so many years, I just simulated this little foot by cutting out the simple concave and convex shapes on the band saw. They never really cut the mustard. Now, I don't have to worry anymore. the addition of the Ogee Foot with all its intricate carvings has given me renewed enthusiasm for my projects!" Contributed by Charles Head, Beautiful Interiors
Cabinet legs and feet provide a finishing touch that adds to the appeal of your space. To make a statement with kitchen cabinets, consider adding decorative cabinet legs and cabinet feet to create a furniture-like look. When added to the bottom of your cabinets to raise them up and off the floor, a soothing space for toes is created. The feel of the entire kitchen is lighter and airier with elevated cabinets. The cabinets appear more like fine furniture. Available in many different styles and configurations, cabinet legs and feet can showcase your room's overall design theme.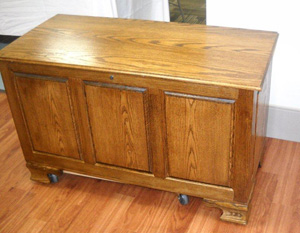 Are you looking for a similar item in a different size? Please click the "Related Items" tab just below the photo, and you can see photos of similar products in different heights and widths. This is a great tool to find matching styles of dining, coffee, and end table legs.
If you need to see any of the measurement details for this item, click on the CAD Drawings tab above. You can also drag and drop the files into your own CAD program for realistic drawings of your finished project!
We offer a wide range of services for Cabinet and Furniture Feet which are not available online, but can be added to your order by calling our friendly Customer Service representatives at 800 849 8876.
Please note that all orders with any of the following services added will be considered 'Custom' and are not eligible for return.
Sanding to 220 Grit
Hand Select
Solid Stock Only
No Sanding
Exterior Glue
Trim Leg
Install Bolt/Screw In the Center of the Top of the foot
Shelf Notch
Custom Milling– Do you have a milling need not mentioned in this section? Contact our friendly customer service representatives for a quote to meet your milling needs. 1-800-849-8876
2022-05-12

Material: Red Oak

I used the product to redesign an old piece of furniture. The product was of excellent quality and I would recommend your company to anyone needing specialty wood products. You definitely cannot find anything this good in big box stores.

2022-01-28

Material: Black Walnut

Exactly what I needed- my client will be very pleased (and it will be our little secret that I had you guys make it!).

2021-09-27

Material: Black Walnut

Perfect

2021-09-06

Material: Knotty Pine

Very good grade of wood, completed my project.

2021-07-29

Material: Knotty Pine

I would purchase from Osborne again.

2021-06-07

Material: Soft Maple (paintgrade)

Great product. Exactly what I needed to finish my project!

2021-04-01

Material: Soft Maple (paintgrade)

Not as good as they used to be; mill marks and chatter on wood

2020-10-03

Material: Red Oak

I'm using it for feet on a dresser. I would recommend to anyone looks for quality products and reasonable prices and the quality is very good

2020-09-11

Material: Red Oak

Replacing feet on antique piece of furniture. So happy to find this!

2020-09-03

Material: Soft Maple (paintgrade)

I get exactly what I order in good condition. Quality above their price point.

2020-09-01

Material: Soft Maple (paintgrade)

Used this product to elevate barroom vanities off of the floor and give the cabinets a furniture look

2020-08-06

Material: Cherry

*****

2020-06-06

Material: Mahogany

Product is great

2020-05-29

Material: Black Walnut

Nice product

2020-03-19

Material: Cherry

perfect quality

2020-01-03

Material: Cherry

used product on a mini bar cabinet