Volume Discounts
Save 5% when ordering 24 or more pieces of the same product
Save 10% when ordering 50 or more pieces of the same product
Save 20% when ordering 100 or more pieces of the same product
*Discounted pricing reflected in cart
*All wood components are unfinished. Learn more about wood types or request a quote.
The Carpi Classic Corbel features hand-carved curves and scrolls. Measuring 6" tall, 2 ¾" deep, and 3" wide, this elegant corbel adds subtle detail and dimension to your home.
This corbel enhances any space with its classic, organic design. Like many of our Classic Corbels, it features an 'S'-shaped carving with a slightly offset center, creating a piece with the perfect amount of detail.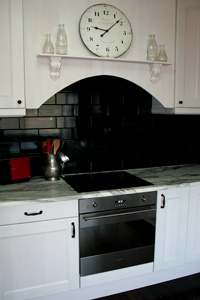 While this piece is one of our smallest Classic Corbels, it is one of our most versatile. Not only can this corbel be used as a support for cabinetry, shelving, or a mantelpiece, but the modest size gives it a variety of creative applications. In fact, many customers have turned our small corbels into decorative pieces or bookends. Let your creativity shine with the Carpi Classic Corbel.
Features vertically-mounted keyhole openings on back for easy mounting.

Available in ten wood types, including a paint grade wood.

Sanded to 150 grit and ready to finish.
Are you looking for a similar item in a different size or design? Please click the "Related Items" tab above to view similar products.
To see more measurement details for this item, click on the "CAD Drawings" tab above. You can also drag and drop the files into your own CAD program for realistic drawings of your finished project!
Need more ideas for application? Visit our blog to see this product in action!
---
Corbels create instant beauty and sophistication in any space. In practical uses, they provide support for countertops, shelves, and more while elegantly transforming the look of your home. Our wood corbels showcase the grain and color of wood, resembling beautiful pieces of art. Furthermore, the selection between intricately carved or simply designed corbels can dramatically alter the atmosphere of a room. Osborne Wood Products produces our world-class corbels in many different styles, materials, and sizes to meet your design needs.
When placing corbels beneath a countertop, focus on the depth of the corbel. Corbels supporting a countertop should measure at least ½ of the overhang's depth. However, these corbels gain visual appeal with larger dimensions. Corbels that measure ⅔ or ¾ of the overhang's depth provide both better looks and extra support. For example, a countertop with a 12 inch overhang requires supporting corbels that are at least 6 inches deep, but feel free to use 8 inch or 9 inch corbels to enhance the countertop's appearance.
Corbels used to brace shelves must measure at least ⅔ of the shelf's depth in order to properly support the shelf. However, it is recommended to support a shelf with corbels measuring ¾ of the shelf's depth, as this creates better support and visual appeal. For example, a shelf that is 12 inches deep requires supporting corbels that are at least 8 inches deep, but 9 inch corbels provide better looks and support. Check out our blog for more information on how to install corbels.
View our full corbel collection here.
2022-06-30

Material: Red Oak

The corbels are exactly as described and pictured, and I am very pleased with them.

2022-03-10

Material: Knotty Pine

Always exactly like the picture and in perfect condition when we recieve.

2021-02-18

Material: Rubberwood (paintgrade)

Excellent quality

2020-12-05

Material: Rubberwood (paintgrade)

Excellent

2020-10-31

Material: Cherry

I've been involved in making high end personal bars. I use your corbels for all my needs. Their well constructed& look great.

2020-07-24

Material: Hard Maple

Lovely, using them to support a shelf.

2020-06-25

Material: Cherry

all excellent and would recommend your company to my clients

2020-06-12

Material: Rubberwood (paintgrade)

I use it for my bookcases.