Volume Discounts
Save 5% when ordering 24 or more pieces of the same product
Save 10% when ordering 50 or more pieces of the same product
Save 20% when ordering 100 or more pieces of the same product
*Discounted pricing reflected in cart
*All wood components are unfinished. Learn more about wood types or request a quote.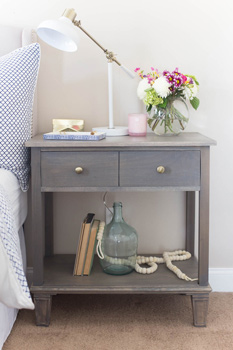 The Mission Sofa Foot is the perfect addition to your next project. Combining height and hand carved detail, this stylish furniture foot will make a stunning addition to your sofa, nightstand or other furnishing. Ideal for mission and shaker style furniture, this design is also surprisingly versatile. Whether you have a modern, contemporary, shaker, or craftsman style space, this piece will complement it beautifully! The foot is 6" tall and 2 3/4" wide, allowing it to make a statement without taking up a lot of space. It will add just the right amount of texture and dimension. The recessed carvings give the piece visual interest, flawlessly balancing light and shadow.
Give your design a hand crafted look with this wooden furniture foot! It is offered in several unfinished wood species, including stain and paint grade options. Create a cohesive look throughout your home by combining this foot with other components in our Mission Collection.
2022-02-15

Material: Red Oak

I used the 4 misson-style legs to convert the top portion of an old hutch into a side table and the legs really make the piece "pop"!
I would recommend the products shown here to everyone needing to accessorize vintage wood furniture as the wood grains match marvellously.
The quality was fantastic and required the normal amount of sanding and not more.

2021-08-21

Material: Hard Maple

The product will be used for chair legs.

The quality was great.

2021-08-02

Material: Soft Maple (paintgrade)

My husband builds custom cabinets and these were used for a bathroom cabinet that the customer wanted on legs

2021-01-21

Material: Soft Maple (paintgrade)

Nice product

2020-10-04

Material: Rubberwood (paintgrade)

The legs were put on a hope chest, anyone can install these, they look great

2020-10-03

Material: Red Oak

We build upholstered furniture

2020-09-13

Material: Rubberwood (paintgrade)

Will be used to enhance display cabinet that will be modified to Scandinavian style. Like shape and proportions.

2020-06-11

Material: Red Oak

Exactly what I needed. Osborne even offers it in several wood species and I was able to get the one that matched the room perfectly.