Roman Island Height Corbel with Acanthus Leaves
Volume Discounts
Save 5% when ordering 24 or more pieces of the same product
Save 10% when ordering 50 or more pieces of the same product
Save 20% when ordering 100 or more pieces of the same product
*Discounted pricing reflected in cart
*All wood components are unfinished. Learn more about wood types or request a quote.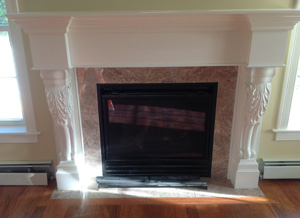 This Roman Island Corbel has the commanding architectural presence of the Roman Empire, accented by hand carved acanthus leaves. This is a more decorative version of our Roman Classic Island Height Corbel. These deliver to you with 3 key holes in the back to make installation a breeze. You can also choose to drill through your existing structure and into the back of the corbels if they will be supporting something much larger. Choose from nine different wood types that can be stained or painted to fit your personal style. These corbels can be installed in your kitchen as well as in your living or sitting room. Take a look at some of our customers' work on our blog.
---
Wooden corbels and brackets create instant beauty and sophistication in any space. In practical uses, they provide support for countertops, shelves, and more while elegantly transforming the look of your home. Our wood corbels showcase the grain and color of wood, resembling beautiful pieces of art. Furthermore, the selection between intricately carved or simply designed corbels can dramatically alter the atmosphere of a room. Osborne Wood Products produces our world-class corbels in many different styles, materials, and sizes to meet your design needs.
When placing corbels beneath a countertop, focus on the depth of the corbel. Corbels supporting a countertop should measure at least ½ of the overhang's depth. However, these corbels gain visual appeal with larger dimensions. Corbels that measure ⅔ or ¾ of the overhang's depth provide both better looks and extra support. For example, a countertop with a 12 inch overhang requires supporting corbels that are at least 6 inches deep, but feel free to use 8 inch or 9 inch corbels to enhance the countertop's appearance.
Corbels used to brace shelves must measure at least ⅔ of the shelf's depth in order to properly support the shelf. However, it is recommended to support a shelf with corbels measuring ¾ of the shelf's depth, as this creates better support and visual appeal. For example, a shelf that is 12 inches deep requires supporting corbels that are at least 8 inches deep, but 9 inch corbels provide better looks and support. Check out our blog for more information on how to install corbels.
Reviews
You must be logged in and have previously purchased this product in order to leave a review.