Transitional Country Dining Table Leg
Volume Discounts
Save 5% when ordering 24 or more pieces of the same product
Save 10% when ordering 50 or more pieces of the same product
Save 20% when ordering 100 or more pieces of the same product
*Discounted pricing reflected in cart
*All wood components are unfinished. Learn more about wood types or request a quote.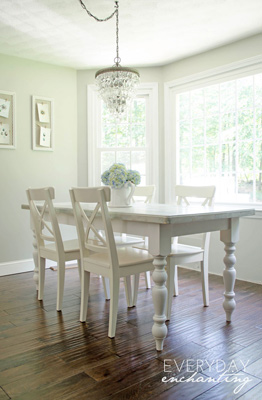 As the farm table design has progressed from a simple, functional design, the variety of styles that compliment the rustic charm continues to grow. What once began as straight, sturdy supports has now grown to a variety of turnings that easily compliment the country allure. One such turning that has developed is the Modified English Country Dining Table Leg.

The Modified English Country dining leg is a variation on the Old English Dining Leg that shortens the square, stretches the turning, and softens the foot. With a delicate, classic design the Modified leg emphasizes the softer side of the country farm style. This turned design adds a mesmerizing charm that will make guests feel welcome and at home.
Available in several wood types, this dining table leg is a perfect option for any farm style table. It is 29" tall with a width of 3 1/2" making it an ideal size to complement any space.

Build This Table! DIY Tutorial and Plans

2022-12-01

Material: White Oak

I used the table legs for a 48" x 73" x1.375" thick farmhouse table. The top is rift sawn white oak.
I would recommend this product to snyone building custom furniture.
The quality was perfect.
PS I can send piix request.

2022-04-14

Material: White Oak

The legs were perfect for the dining table we made, I would recommend Osborne products to anyone. The quality was great.

2022-03-10

Material: White Oak

Excellent quality and highly recommend. The dining table we built was 10' long with all three leaves installed and 40" wide. Our table top is 1 1/4" thick and the leg dimensions were perfect for our table.

2022-03-10

Material: White Oak

Product was flawless and beautiful white oak

2021-12-26

Material: Alder

I used these legs to repair a hundred year old table that had been damaged a few years ago.
I would recommend this product to anyone who needs quality reasonably priced table legs.
They were well made, glued, turned, and sanded. Took a stain well. Held up Christmas dinner. Nothing more to ask of them.

2021-11-19

Material: Black Walnut

Perfect style for my clients table

2021-09-27

Material: White Oak

Great add to our projects.

2021-09-06

Material: Hickory

Perfect

2021-09-06

Material: Hard Maple

Great customer service.

2021-05-20

Material: White Oak

Fit the project well.

2021-01-03

Material: Hard Maple

The product is fantastic.

2020-09-11

Material: Knotty Pine

I ordered this table leg to replace the broken center leg for a long farm-style dining table.The quality of the wood turning and sanded finish was good -- no noticeable defects.

2020-05-08

Material: White Oak

Use for dining table

2020-04-02

Material: Red Oak

I used these legs on a large desk and they are perfect

2020-02-07

Material: Red Oak

Excellent quality and worksmanship.

Highly reccomend to any woodworking craftsman!