50" Equalizer Table Slide (49" opening)
Volume Discounts
Save 5% when ordering 24 or more pieces of the same product
Save 10% when ordering 50 or more pieces of the same product
Save 20% when ordering 100 or more pieces of the same product
*Discounted pricing reflected in cart
*All wood components are unfinished. Learn more about wood types or request a quote.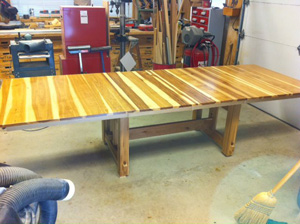 All table slides are sold as a pair (one left, one right). Although it does not matter which slide you install to which side of the table, you must have one of each for a complete set.
This equalizer table slide has been constructed with a camber to prevent table sagging over time. There are pre-drilled holes (eight per slide) to help with table top installation. Please note that table top mounting screws are not included. This table slide has a rack and pinion built-in allowing for smooth and equal extension.
Length of the slide when closed: 50"
Length of the slide when fully extended: 99"
Width of slide when closed: 3" (constructed with 3 sections)
Accepts four (4) 12" leaves
It is important to select the correct table slide:
Equalizer table slides: Tabletops that are supported on a single pedestal require an equalizer slide that incorporates a rack and pinion system to ensure that the tops open and close easily while staying in balance. An equalizer slide is designed for use on a pedestal table, as it develops a camber to compensate for sagging at the ends of the table.
Standard table slides: A standard slide is designed for use on a four-legged table, where the distance between the legs on each end of the table increases as the table is opened. A standard slide develops a camber to compensate for sagging in the center of the table.
For more information about our Table Slides including helpful tips on installation check out our Table Slides Information Page
See our YouTube video for additional information.
Reviews
You must be logged in and have previously purchased this product in order to leave a review.